HSZ-DF Small Chain Hoist
| | |
| --- | --- |
| Capacity: | 0.25T-10T |
| Power Source: | manual |
| Sling type: | chain |
| Lifting height: | standard 3M |
| Warranty: | 1 year |
| HS code: | 8425190000 |
| Transport package: | strong kraft carton or color carton |
Features of HSZ-DF Mini Hoist
Unique designed quadrilateral appearance and thicker plate in beauty and long life.
Compact structure and lightweight. Portable and easy to install. Low headroom as the compact gearbox.
Easy to use. Lubricated bearings and bushings, pinion gears with bearings, and heat-treated spur gearing ensure smooth and efficient operation of the product with minimal effort.
Safety load. Mechanical load brakes allow precise lifting and positioning of loads. The 360° rotatable lower hook with a safety latch can carry the load more safely and effectively.
The hardened lifting chain can bear more weight, has good wear resistance and has a long service life. The steel hoist housing can withstand harsh environments.
Easy to maintain. The hoist is easy to disassemble and assemble, and only some simple hand tools are needed for disassembly and assembly during inspection and maintenance.
Use high-quality brakes, wear-resistant, corrosion-resistant high-strength chains and hooks.
Comply with European EN13157 safety standards.
Detailed parts of DF model chain hoist
High-quality alloy steel shell with uniform spraying, and reasonable grooves, is in good anti-collision ability, and effectively protects the internal accessories.
Load hook: High-quality alloy forged hooks with safety latches and increased inner diameter are in Strong impact resistance, not easy to break and deform.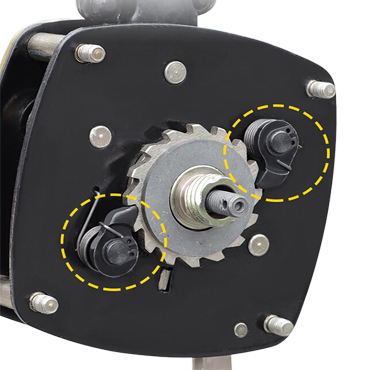 Double pawl brake system, unique dry brake mechanism, has a powerful braking effect and can exert strong and durable performance under continuous and long-term working conditions.
The high-strength double guide wheel design can effectively comb the chain and prevent the chain from twisting and jamming, with lighter pulling force and higher efficiency.
High-quality 20CrMnTi alloy steel teeth, after strict carburizing heat treatment process, higher strength, better toughness, reduced friction and loss, higher efficiency.
The surface of the chain is galvanized, which has stronger oxidation resistance, and the hand chain is thicker, stronger and more durable, with longer service life.
Description of the small chain fall
Sepcification and Dimension
Detailed packages
Introducing the DF model chain hoist – the mini chain hoist that stands out with its unique four-corner design. This innovative design provides four support points, ensuring enhanced safety compared to the traditional triangle chain hoist.
What sets the small hoist apart from others is its compact size. The body of a 250kg chain hoist is only half the size of an iPhone. Not only are they lightweight, but they are also incredibly portable. Perfect for lifting short-distance and small-sized goods, these light duty hoists can handle weights up to 10T (with a maximum of 20T) and lift heights generally not exceeding 6M.
But it's not just their size that makes DF chain hoists exceptional. They boast a sleek appearance and meet EU CE standards for quality. The one-piece, thickened housing made from high-quality alloy steel protects the internal chain hoist parts, even in harsh environments. The internal gears are crafted from 20CrMnTi, the same top-notch quality as our best VD chain hoist accessories. Additionally, the upper and lower hooks are forged from high-quality alloy steel, guaranteeing both long-lasting durability and an appealing look.
With its high-strength galvanized hand and load chains, this DF small hoist crane allows easy and effortless operation while ensuring safety and durability. The hand chain diameter is 3mm for the 250kg and 500kg chain block and increases to 4.8mm for capacities over 1T, which is also the same as the VD series chain block, providing exceptional strength and corrosion resistance.
High quality galvanized 20Mn2 G80 load chain, with four times breaking force ensures all your safety loads.
Model
Capacity(kg)
Standard Lifting Height(M)
Force of Full load (N)
Test Load(kg)
Dia of load chain(mm)
Dimmension (mm)
Net Weight(kg)
a
b
c
d
e
Hmin
DF-0.25
250
3
220
375
4*12
102
28
98
31
114
261
4.2
DF-0.5
500
3
240
750
5*15
122
34
118
31
119
311
5.7
DF-1
1000
3
305
1500
6*18
152
40
145
31
139
373
10.8
DF-2
2000
3
360
3000
8*24
190
52
184
41
150
460
17.1
DF-3
3000
3
370
4500
10*30
240
62
214
45
158
553
26.2
DF-5
5000
3
390
7500
10*30
240
72
214
51
158
630
40
DF-10
10000
3
430
15000
10*30
244
70
204
54
167
705
73.2
Related products
More options of our chain blocks, please check below.