Heavy Duty Electric Construction Hoist
Heavy Quality
Wide Application
Support Customization
Large Stock
About In-Line electric construction winch
The in-line hoist is a device that drives the drum by mechanical power and winds the rope to complete the traction work. The electric winch structure is simple. It comprises a motor, a coupling, a brake, a gearbox and a drum, which are jointly installed on the frame. It is suitable for work with high lifting heights and frequent loading and unloading. It has good speed regulation performance and can quickly lower the empty hook. Heavy objects can be lifted vertically, horizontally or tilted. Wire ropes, electric control boxes, handle switches, hooks, and wireless remote controls are optional requirements. It is widely used in residential buildings, hanging grey bricks, digging wells, warehouses, shopping malls, restaurants, individual workshops, small factories and mines. It can be used for moving, lifting, loading and unloading at any angle.
Electric winch supports customization
Notion!
Due to transportation limits, the hoist cannot be filled with gear lubricating oil. It is recommended that you purchase 18# gear oil by yourself after receiving the product. Please fill it out according to the requirements below:
| | | | | | |
| --- | --- | --- | --- | --- | --- |
| Capacity(Ton) | 1 | 2 | 3 | 5 | 10 |
| Oil volume(Liter) | 0.65 | 1.15 | 1.65 | 2.35 | 3.55 |
Gear oil needs to be changed every three months.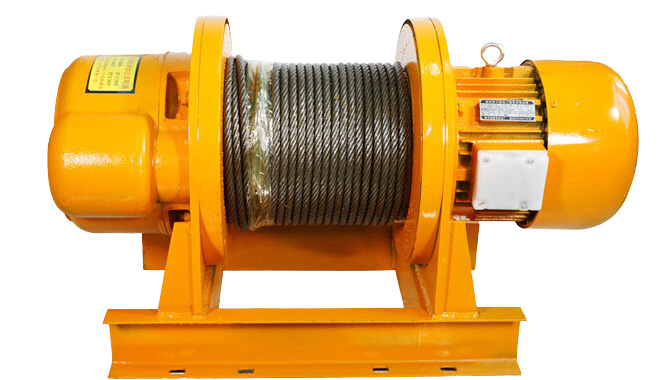 Matching Parts
Liftpand has multiple controller options as the photo.
The standard configuration is the first control box with the handling.
Remote control is available.  The fourth handling without the control box is just suitable for 1-2T winch.
You can choose the right wire rope and hooks as requirements.
Features of the KD electric winch
Technical Data
Base Installation Size
Real Lifting Capacity
Pure copper motor, high-temperature resistance, fast heat dissipation, strong power for a long time operating.
Enclosed gear reducer with the power-off brake system.
Adopt seamless steel pipe, large drum in big capacity, strong bearing without deformation.
Fast lifting speed.
The channel steel base adopts welded structure to prevent loosening and effectively enhance stability.
It can lift heavy objects vertically, horizontally or obliquely, having wide applications.
Capacity
1T
2T
3T
5T
10T
Voltage
380V
Input Power(Kw)
1.5
3
4.5
7.5
13
Using way
1 fall
2 falls
1 fall
2 falls
1 fall
2 falls
1 fall
2 falls
1 fall
2 falls
Lifting speed m/min
16
8
16
8
16
8
16
8
12
6
Lifting capacity T
0.5
1
1
2
1.5
3
2.5
5
5
10
Traction capacity T
1
2
2
4
3
6
5
10
10
18
Dia of Rope mm
7.7
11
13
15
15
Bare hoist weight kg
80
140
170
248
500