Material Handling Equipment Supplier in China
Hand Pallet Truck
Manual Stacker
Semi-electric Stacker
What is the material handling equipment?
Material handling equipment is mainly mechanical equipment for material handling, transportation, lifting, stacking and storage within factories (including docks, stockyards, mines and commercial warehouses, etc.). Generally include lifting machinery, conveyors, loading and unloading machinery, handling vehicles and storage equipment, etc.
In our company, it refers to the light and small handling equipment, such as hydraulic pallet jacks, and stackers. Using reasonable handling tools can help reduce labour intensity, reduce product damage, protect workers' health, improve labour productivity and product quality, and reduce production costs.
Customized non-standard pallet jacks
Common non-standard hydraulic pallet trucks include the following:
1. Ultra-low hydraulic pallet truck: it is convenient for the fork to enter the container with a lower chassis.
2. Wide fork pallet truck: the fork is wider, which is convenient for carrying wider cargo.
3. Ultra-long pallet truck:  it is very suitable for longer and larger cargo.
4. Short fork pallet truck: the fork is very short, which is more convenient for some small but very heavy cargo handling.
5. Other types for special use can be manufactured according to customers' requirements.
Product Feature Box
Quality material
4mm high-quality steel plate
Efficient operation
Durable life
about 2 years integrated pump
Fast delivery
Electric stacker
This series stacker has combined PA mini electric hoist with a manual stacker and realized lift up and down in electricity and move forward and back by hand. It has the advantages of a compact structure, flexible transportation, convenient operation, a small turning radius, etc. It is suitable for the handling and stacking of items in factories, warehouses, etc., reducing labour intensity and improving handling efficiency.
Oil drum hand stacker
The unique olecranon design can be adjusted freely and is suitable for various types of oil drums.
The whole vehicle adopts double chain design to make the rise and fall more stable.
It has the characteristics of stable walking, flexible operation, fast and convenience.
Scissor lift truck
This scissor lift can not only lift but also be used as a working platform. Its body design is compact, and the oil pump has the function of quick lifting, which greatly saves lifting time. It's widely used in factories, workshops, warehouses, supermarkets and other places.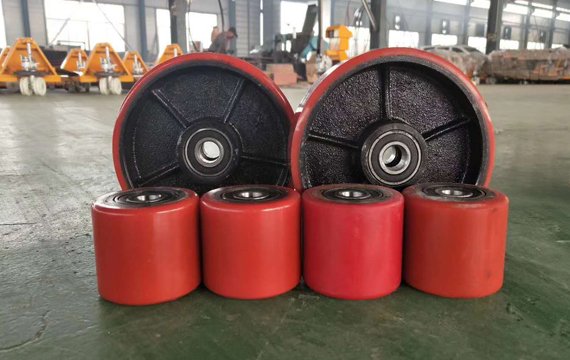 PU wheels for the pallet truck
It's quiet and wear-resistant, not harmful to the ground. It's suitable for marble, paint, epoxy floor.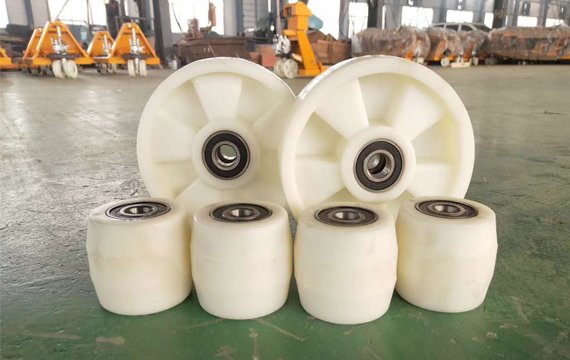 Nylon wheels for the pallet truck
It has the advantages of  low rotation power, easy to pull, stable chemical properties, etc., suitable for use on cement floors.
Wide Applications
Paper tube moving
It is suitable for handling and loading and unloading cylindrical items such as paper tubes, carpets, rubber rollers, bobbins, and cloth rolls. Due to the use of special inclined fork plates, it can easily carry various cylindrical items to ensure that paper tubes, cloth rolls, etc. will not be scratched hurt.
Oil drum loading
It can move whether it is barrels of any material, iron barrels, or fiberboard barrels; closed barrels, open barrels, or reinforced wall thickness barrels; regardless of any barreled materials, liquid materials such as water and lubricating oil barrels, solid materials such as chemical raw materials and plastic particles.
"Good quality pallet truck with the reinforced rob"

"I bought one electric stacker, it's very helpful for me in my warehouse"