ELECTRIC WINCHES
FOR TRUCKS/JEEPS/SUVS
First-class components
Precision engineered
High performance
Portable truck electric winches, available in both 12V and 24V models, are a convenient and powerful tool for getting heavy loads where they need to go. It can use the vehicle's electric power and its own power engine to rotate and drive the equipment to run. Whether you're hauling lumber, climbing steep hills, or need to move something from one spot to another, a truck electric winch is an invaluable tool. With their powerful motor and rugged steel construction, not only do they provide the strength and power you need for tough hauling tasks, but they also offer convenience thanks to their easy-to-use design. With the right winch, you can get the job done quickly and safely without breaking your back or overloading your truck's capacity. Get your own truck electric winch today and start hauling with ease!
Specifications are 2000 lbs, 3000 lbs, 3500 lbs, 4000 lbs, 4500 lbs, 6000 lbs, and 12000 lbs. Moreover, these winches also come with a remote control feature, making them even easier and more convenient to use. The remote control allows you to operate the winch from up to 30-50 meters away without any hindrance, giving you complete control over your load while ensuring safety. The copper core terminals provide excellent conductivity and low heat generation, making them perfect for use in various vehicles, agriculture, warehouse, and other scenarios. In addition, they are also great for vehicle self-rescue and rice transplanter self-rescue applications when used with vehicle-mounted cranes. This makes our winches incredibly versatile and practical for a variety of tasks. With such reliable performance and practical features, you can be sure that Liftpand Winches are an excellent choice for your needs.
Read More
Focus on details - Fine Quality
Screw Machine
Pure copper motor, automatic brake when powered off
IP67 water proof
IP67 waterproof in a strong sealing
Galvanized rope
Anti-rotation galvanized steel wire rope
Alloy steel hook
Alloy steel hook, integrally formed, not easy to break
More applications of ATV electric winches
As we all know that the vehicle-mounted winch is necessary for SUVs or Jeeps. When stuck in a quagmire, it's a good helper to carry out off-road self-rescue. Apart from this, it is also ideal for accident traction and lifting heavy objects with minimal effort. It's widely used in vehicle-mounted cranes to lift objects, fieldwork vehicles, fire trucks and various engineering rescue vehicles.
Electric winches control way
There are two control ways of Liftpand electric winch, cable control and remote control. The wireless remote control can control about 30M.
Above 6000lb, Liftpand winch will be assembled with the waterproof control box.
Liftpand supports OEM design. Just contact and send your requirements to our team.
Specification of 2000lb ATV Winch
Specification of 3000lb ATV Winch
Specification of 3500lb ATV Winch
Specification of 4500lb ATV Winch
Specification of 6000lb ATV Winch
Specification of 9500lb ATV Winch
Specification of 12000lb ATV Winch
Specification of 20000lb ATV Winch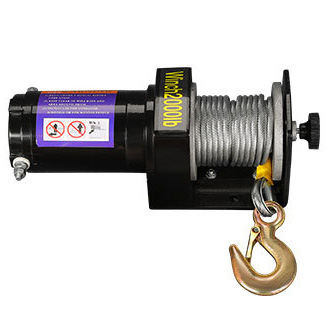 2000LB WINCH SPECIFICATIONS
| | |
| --- | --- |
| | |
| Rated line pull | 2000lb(907kg) |
| Motor | Permanent magnet,0.7kw/1.0hp |
| Gearing | Differential Planetary |
| Gear ratio | 153:1 |
| Wire rope | 5/32×25(5mm×8m) |
| Dimension | L×W×H(285×105×105mm) |
| Drum Diameter | 1.25″(31.75mm) |
| N.W/G.W | 20KG/22KG(4PCS) |
| Packages Size | 48×34×34cm(4PCS) |
PULL, SPEED, AMPERES, VOLTS(FIRST LAYER)
| | | |
| --- | --- | --- |
| Line Pull(lbs./kg) | Line Speed FPM(m/min) | Motor(Amps) |
| 0 | 10.5ft (3.2m) | 8 |
| 500(227) | 9.2ft (2.8m) | 30 |
| 1,000 (454) | 7.2ft (2.2m) | 60 |
| 1,500 (680) | 5.2ft (1.6m) | 90 |
| 2,000 (907) | 2.9ft (0.9m) | 120 |
LINE PULL AND ROPE CAPACITY IN LAYER
| | | |
| --- | --- | --- |
| Layer | Rated Line Pull (lbs./kgs) | Total Rope On Drum (ft/m) |
| 1 | 2000 (907) | 6.6 (2.0) |
| 2 | 1630 (740) | 14.0 (4.3) |
| 3 | 1380 (620) | 23.5 (7.2) |
| 4 | 1190 (540) | 35.0 (10.6) |
| 5 | 1050 (470) | 47.0 (14.4) |
| 6 | 940 (420) | 50.0 (15.2) |
3000LB WINCH SPECIFICATIONS
| | |
| --- | --- |
| Rated line pull | 3000lb(1361kg) |
| Motor | Permanent magnet,0.9kw/1.2hp,12V DC |
| Gearing | Differential Planetary |
| Gear ratio | 153:1 |
| Free spooling clutch | Pull and turn |
| Braking action | Automatic In-The-Drum |
| Wire rope | 6/19×25(5mm×8m) |
| Dimension | L×W×H(285×110×105mm) |
| Drum Diameter | 1.25″(31.75mm) |
| Drum Length | 2.9″ (74mm) |
| N.W/G.W | 26KG/28KG(4PCS) |
| Packages Size | 48×34×34cm(4PCS) |
PULL, SPEED, AMPERES, VOLTS(FIRST LAYER)
| | | |
| --- | --- | --- |
| Line Pull(lbs./kg) | Line Speed FPM(m/min) | Motor(Amps) |
| 0 | 10.8ft (3.3m) | 12 |
| 1,000(454) | 8.2ft (2.5m) | 60 |
| 2,000 (907) | 3.6ft (1.1m) | 100 |
| 3,000 (1361) | 2.6ft (0.8m) | 130 |
LINE PULL AND ROPE CAPACITY IN LAYER
| | | |
| --- | --- | --- |
| Layer | Rated Line Pull (lbs./kgs) | Total Rope On Drum (ft/m) |
| 1 | 3000 (1361) | 4.9 (1.5) |
| 2 | 2320 (1052) | 11.5 (3.5) |
| 3 | 1890 (858) | 19.3 (5.9) |
| 4 | 1590 (720) | 28.5 (8.7) |
| 5 | 1380 (620) | 30.0 (9.2) |
3500LB WINCH SPECIFICATIONS
| | |
| --- | --- |
| Rated line pull | 3500lb(1590kg) |
| Motor | Permanent magnet,0.9kw/1.2hp,12V DC |
| Gearing | Differential Planetary |
| Gear ratio | 136:1 |
| Free spooling clutch | Pull and turn |
| Braking action | Automatic In-The-Drum |
| Wire rope | 7/32×30″(5mm×10m) |
| Dimension | L×W×H(318×110×105mm) |
| Drum Diameter | 1.95″(50mm) |
| Drum Length | 2.9″ (74mm) |
| N.W/G.W | 30KG/32KG(2PCS) |
| Packages Size | 47×33×33.5cm(2PCS) |
PULL, SPEED, AMPERES, VOLTS(FIRST LAYER)
| | | |
| --- | --- | --- |
| Line Pull(lbs./kg) | Line Speed FPM(m/min) | Motor(Amps) |
| 0 | 10.8ft (3.3m) | 12 |
| 1,000(454) | 8.2ft (2.5m) | 60 |
| 2,000 (907) | 3.6ft (1.1m) | 100 |
| 3,500 (1590) | 2.6ft (0.8m) | 130 |
LINE PULL AND ROPE CAPACITY IN LAYER
| | | |
| --- | --- | --- |
| Layer | Rated Line Pull (lbs./kgs) | Total Rope On Drum (ft/m) |
| 1 | 3500 (1590) | 4.9 (1.5) |
| 2 | 2320 (1052) | 11.5 (3.5) |
| 3 | 1890 (858) | 19.3 (5.9) |
| 4 | 1590 (720) | 28.5 (8.7) |
| 5 | 1380 (620) | 30.0 (9.2) |
4500LB WINCH SPECIFICATIONS
| | |
| --- | --- |
| Rated line pull | 4500lb(1814kg) |
| Motor | Permanent magnet,0.9kw/1.2hp,12V DC |
| Gearing | Differential Planetary |
| Gear ratio | 136:1 |
| Free spooling clutch | Pull and turn |
| Braking action | Automatic In-The-Drum |
| Wire rope | 7/32×30″(5mm×10m) |
| Dimension | L×W×H(365×110×105mm) |
| Drum Diameter | 1.95″(50mm) |
| Drum Length | 2.9″ (74mm) |
| N.W/G.W | 30KG/32KG(2PCS) |
| Packages Size | 47×33×33.5cm(2PCS) |
PULL, SPEED, AMPERES, VOLTS(FIRST LAYER)
| | | |
| --- | --- | --- |
| Line Pull(lbs./kg) | Line Speed FPM(m/min) | Motor(Amps) |
| 0 | 10.8ft (3.3m) | 12 |
| 1,000(454) | 8.2ft (2.5m) | 60 |
| 3,000 (1360) | 3.6ft (1.1m) | 100 |
| 4,000 (1814) | 2.6ft (0.8m) | 130 |
LINE PULL AND ROPE CAPACITY IN LAYER
| | | |
| --- | --- | --- |
| Layer | Rated Line Pull (lbs./kgs) | Total Rope On Drum (ft/m) |
| 1 | 4500 (1814) | 4.9 (1.5) |
| 2 | 3000 (1360) | 11.5 (3.5) |
| 3 | 1890 (858) | 19.3 (5.9) |
| 4 | 1590 (720) | 28.5 (8.7) |
| 5 | 1380 (620) | 30.0 (9.2) |
6000LB WINCH SPECIFICATIONS
| | |
| --- | --- |
| Rated line pull | 6000lb(2722kg) |
| Motor | Permanent magnet,3.1kw/4.2hp,12V DC |
| Control | Remote switch,12ft (3.7m) lead |
| Gearing | Differential Planetary |
| Gear ratio | 164:1 |
| Clutch | Sliding Ring Gear |
| Braking action | Automatic In-The-Drum |
| Wire rope | 9/32×79″(7.2mm×24m) |
| Dimension | L×W×H(440×160×218mm) |
| Drum Diameter | 2.52″(64mm) |
| Drum Length | 5.56″ (134mm) |
| Fairlead | 4-Way Roller Fairlead |
| Remote Control | Included |
| Battery Leads | 2 gauga, 72″(1.83m) |
| N.W/G.W | 24KG/28KG |
| Packages Size | 48.5×19.5×48.5cm(1PCS) |
PULL, SPEED, AMPERES, VOLTS(FIRST LAYER)
| | | |
| --- | --- | --- |
| Line Pull(lbs./kg) | Line Speed FPM(m/min) | Motor(Amps) |
| 0 | 13.65ft (4.2m) | 70 |
| 2,000(907) | 8.78ft (2.7m) | 120 |
| 4,000 (1814) | 6.5ft (2.0m) | 190 |
| 6,000 (2720) | 4.55ft (1.4m) | 280 |
LINE PULL AND ROPE CAPACITY IN LAYER
| | | |
| --- | --- | --- |
| Layer | Rated Line Pull (lbs./kgs) | Total Rope On Drum (ft/m) |
| 1 | 6000 (2700) | 13.0 (4.0) |
| 2 | 4990 (2265) | 29.0 (9.0) |
| 3 | 4280 (1940) | 48.0 (14.6) |
| 4 | 3730 (1690) | 69.0 (21.0) |
| 5 | 3310 (1500) | 79.0 (24.0) |
9500LB WINCH SPECIFICATIONS
| | |
| --- | --- |
| Rated line pull | 9500lb(4309kg) |
| Motor | Permanent magnet,4.5kw/6.0hp,12V DC |
| Control | Remote switch,12ft (3.7m) lead |
| Gearing | Differential Planetary |
| Gear ratio | 265:1 |
| Clutch | Sliding Ring Gear |
| Braking action | Automatic In-The-Drum |
| Wire rope | 9.5mm×27m |
| Dimension | L×W×H(552×160×218mm) |
| Drum Diameter | 2.52″(64mm) |
| Drum Length | 8.82″ (224mm) |
| Fairlead | 4-Way Roller Fairlead |
| Remote Control | Included |
| Battery Leads | 2 gauga, 72″(1.83m) |
| N.W/G.W | 34KG/36KG |
| Packages Size | 61×19.5×48.5cm(1PCS) |
PULL, SPEED, AMPERES, VOLTS(FIRST LAYER)
| | | |
| --- | --- | --- |
| Line Pull(lbs./kg) | Line Speed FPM(m/min) | Motor(Amps) |
| 0 | 22.0ft (6.8m) | 80 |
| 4,000 (1814) | 11.5ft (3.5m) | 170 |
| 6,000 (2720) | 9.8ft (3.0m) | 210 |
| 8000 (3629) | 8.2ft (2.5m) | 250 |
| 10000 (4536) | 6.8ft (2.1m) | 300 |
| 12000 (5443) | 5.6ft (1.7m) | 360 |
LINE PULL AND ROPE CAPACITY IN LAYER
| | | |
| --- | --- | --- |
| Layer | Rated Line Pull (lbs./kgs) | Total Rope On Drum (ft/m) |
| 1 | 12000 (5443) | 17.6 (5.4) |
| 2 | 9530 (4322) | 37.0 (11.4) |
| 3 | 7920 (3590) | 63.0 (19.4) |
| 4 | 6770 (3075) | 88.0 (26.8) |
12000LB WINCH SPECIFICATIONS
| | |
| --- | --- |
| Rated line pull | 12000lb(5443kg) |
| Motor | Permanent magnet,4.5kw/6.0hp,12V DC |
| Control | Remote switch,12ft (3.7m) lead |
| Gearing | Differential Planetary |
| Gear ratio | 265:1 |
| Clutch | Sliding Ring Gear |
| Braking action | Automatic In-The-Drum |
| Wire rope | 9.5mm×27m |
| Dimension | L×W×H(552×160×218mm) |
| Drum Diameter | 2.52″(64mm) |
| Drum Length | 8.82″ (224mm) |
| Fairlead | 4-Way Roller Fairlead |
| Remote Control | Included |
| Battery Leads | 2 gauga, 72″(1.83m) |
| N.W/G.W | 34KG/36KG |
| Packages Size | 61×19.5×48.5cm(1PCS) |
PULL, SPEED, AMPERES, VOLTS(FIRST LAYER)
| | | |
| --- | --- | --- |
| Line Pull(lbs./kg) | Line Speed FPM(m/min) | Motor(Amps) |
| 0 | 22.0ft (6.8m) | 80 |
| 4,000 (1814) | 11.5ft (3.5m) | 170 |
| 6,000 (2720) | 9.8ft (3.0m) | 210 |
| 8000 (3629) | 8.2ft (2.5m) | 250 |
| 10000 (4536) | 6.8ft (2.1m) | 300 |
| 12000 (5443) | 5.6ft (1.7m) | 360 |
LINE PULL AND ROPE CAPACITY IN LAYER
| | | |
| --- | --- | --- |
| Layer | Rated Line Pull (lbs./kgs) | Total Rope On Drum (ft/m) |
| 1 | 12000 (5443) | 17.6 (5.4) |
| 2 | 9530 (4322) | 37.0 (11.4) |
| 3 | 7920 (3590) | 63.0 (19.4) |
| 4 | 6770 (3075) | 88.0 (26.8) |
20000LB WINCH SPECIFICATIONS
| | |
| --- | --- |
| Rated line pull | 20000lb(9071kg) |
| Motor | Permanent magnet,4.5kw/6.0hp,12V DC |
| Control | Remote switch,12ft (3.7m) lead |
| Gearing | Differential Planetary |
| Gear ratio | 265:1 |
| Clutch | Sliding Ring Gear |
| Braking action | Automatic In-The-Drum |
| Wire rope | 9.5mm×27m |
| Dimension | L×W×H(552×160×218mm) |
| Drum Diameter | 2.52″(64mm) |
| Drum Length | 8.82″ (224mm) |
| Fairlead | 4-Way Roller Fairlead |
| Remote Control | Included |
| Battery Leads | 2 gauga, 72″(1.83m) |
| N.W/G.W | 51KG/55KG |
| Packages Size | 61×19.5×48.5cm(1PCS) |
PULL, SPEED, AMPERES, VOLTS(FIRST LAYER)
| | | |
| --- | --- | --- |
| Line Pull(lbs./kg) | Line Speed FPM(m/min) | Motor(Amps) |
| 0 | 22.0ft (6.8m) | 80 |
| 4,000 (1814) | 11.5ft (3.5m) | 170 |
| 6,000 (2720) | 9.8ft (3.0m) | 210 |
| 8000 (3629) | 8.2ft (2.5m) | 250 |
| 10000 (4536) | 6.8ft (2.1m) | 300 |
| 12000 (5443) | 5.6ft (1.7m) | 360 |
| 20000 (9701) | 4.8ft (1.5m) | 450 |
LINE PULL AND ROPE CAPACITY IN LAYER
| | | |
| --- | --- | --- |
| Layer | Rated Line Pull (lbs./kgs) | Total Rope On Drum (ft/m) |
| 1 | 20000 (9071) | 24 (11) |
| 2 | 12000 (5443) | 17.6 (5.4) |
| 3 | 9530 (4322) | 37.0 (11.4) |
| 4 | 7920 (3590) | 63.0 (19.4) |
| 5 | 6770 (3075) | 88.0 (26.8) |